Today, corporate's are leading their business with the assistance of cloud based accounting software. Online accounting system has diverse conveniences over using any desktop platform for business. It is an extremely a productive way of controlling all the major business aspects of business.
But there seems to be large options in front of you to choose upon best online accounting software. As the competition arises, every software company step forward with new and advance accounting features. It is always a cumbersome task whenever you have to decide to stick to one perfect accounting system for you. You have to consider every core of your business to take decision.
In the marketplace, there are two most common and popular cloud accounting software used by each and every accounting firm over the globe: QUICKBOOKS and XERO. These softwares are in the high competition these days. As QuickBooks are the oldest software but Xero is in the market from the last few years.
QuickBooks
Basically a product of Intuit Company, they work both on desktop as well as online platform. It is used to handle all your bookkeeping and accounting procedure. It has inbuilt accounting features that can meet every business need may be small or large. QuickBooks are mainly popular in the region of USA.
Xero
It is basically a cloud based accounting software, meeting all the business requirements of small as well as medium-sized firms. Xero is highly been used by the business firms prevailing in Canada.
Comparing Accounting Features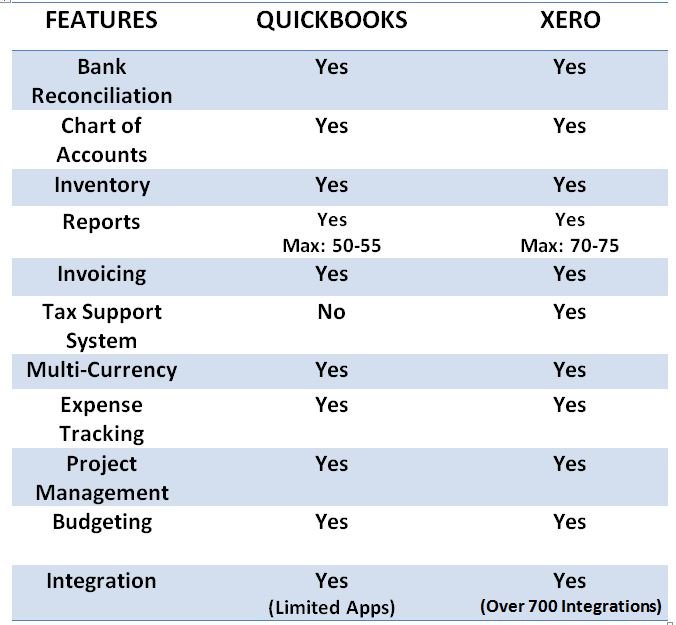 QUICKBOOKS VS XERO
Bottom-line
These both accounting software have their own drawback and plus points on the basis of proving accounting opportunities to the business firms. Only your business structure and size of business will decide your accounting software between both of them. Generally, QuickBooks accounting is suitable for all sized businesses and very effectively, Xero will fulfill the need of small sized firms competently.
You can acquire the benefits of both QuickBooks and Xero with our accounting outsourcing services. We at, Outsource Bookkeeping Firm, have a skilled and trained staff who operate these two accounting software. Out accounting process will be fully mechanized and resulting, you can experience full automation in the business processes. These accounting softwares are highly recommended by our off-shore outsourcing clients. And we just follow their instructions.
Want to know more about our accounting outsourcing services, with the help of these softwares?
Visit our Website or you can Contact Us, at any time.